Gina d'Entremont-Muise, CCDP
Contact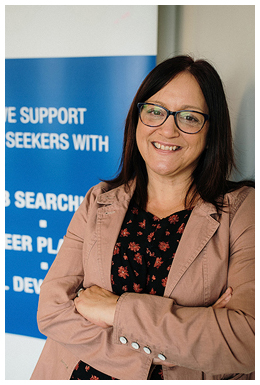 Fonction:

Case Manager
Yarmouth


902-742-5859

902-742-5861
Informations diverses
Gina d'Entremont-Muise has been with Southwest Employment Services since 2003. Gina works with the clients with their long-term employment goals, assists them with resumes, applying for employment or obtaining the training they require in order to secure employment. Having begun her career as the Administrative Assistant, and having over 30 years' experience working in an office setting, Gina has worked her way into what she calls a more demanding and satisfying position as Certified Career Development Practitioner within the organization.

Before joining Southwest Employment Services, Gina's past experiences include File Clerk, Customer Service Representative, Sales Clerk, and Administrative Assistant. Gina's past experiences have given her the confidence and skills necessary to assist clients with their needs. In 2016 she successfully completed the requirements and has become a Certified Career Development Practitioner (CCDP) through the Nova Scotia Career Development Association.

Gina truly enjoys her work with Southwest Employment Services and enjoys seeing the smile on the clients' face when they achieve their goals!